AGM 2017 & Special Meeting
AGM 2017 & Special Meeting
Sunday, October 15, 2017

Important: This event has already occurred.

6:30PM - 7:15PM
Sanctuary, NSAC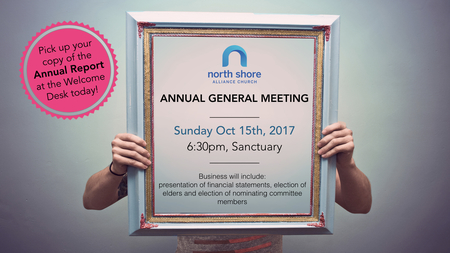 We will be holding our 2017 Annual General Meeting on Sunday, October 15th at 6:30pm in the church sanctuary. In order for an AGM to be duly constituted, we need a minimum of 20% of the membership in attendance. The meeting will run for approximately 45 minutes, during which time we will conduct our necessary business - to receive the Annual Report, to receive the Financial Statements, to elect Elders, and to elect lay members to the Nominating Committee.
The 2017 Annual Report has been emailed to church members, and printed copies of the report and financial statements are available at the Welcome Desk in the church foyer.
Directly following the AGM, there will be a Special Meeting of the Members on October 15th from 7:15-8:15pm in the church sanctuary. The business of this meeting will be to vote on our new constitution and bylaws.
We look forward to meeting with you on Sunday, October 15th.
Return to Events
---