The Bible: Why We Can Trust It
The Bible: Why We Can Trust It
Unpublished

Saturday, February 24, 2018

Important: This event has already occurred.

9:00AM - 1:00PM
North Shore Alliance Church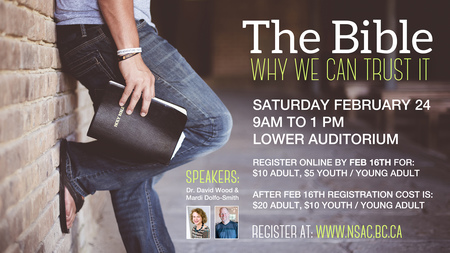 ****This seminar has been cancelled due to lack of registrations.
The Bible: Why We Can Trust It
Currently there are many voices challenging the authority and the trustworthiness of the Bible.
A local church posts this on their website: "We take the Bible seriously but not literally.We understand the bible as a human product, written in the context of two ancient communities. It is a record of how those people understood and experienced God and their life of faith."
A well respected Bible teacher recently wrote this: "The Bible is … a collection of books written over at least 1,500 years, which for all their extraordinary consensus, also contain some conflicting, and even contradictory views. At the same moment, they bear the hallmarks of some of the limitations and preconceptions of their times and cultures, but also of the profound and transformational experience that their writers' encounters and dialogue with God produced." *
In this seminar we will explore how the Bible is consistent and trustworthy for today. We will discuss how the church has understood the inspiration of the Bible, how the Bible was formed, how God speaks through the Scriptures, and some unhelpful ways to read Scripture.


PRESENTERS:
Dr. David Wood
Senior Associate Pastor, Coquitlam Alliance Church (click the file below for David's bio)
Mardi Dolfo-Smith
Discipleship Pastor, North Shore Alliance Church
TIME:
February 24th, 9 am - 1 pm
LOCATION:
North Shore Alliance Church, Lower Auditorium
COST:
Before February 16th: $10 per Adult, $5 per Student (age 15-25)
After February 16th: $20 per Adult, $10 per Student
* Excerpt from Article by Steve Chalke: "The Bible isn't Infallible. But Jesus Is"
Available Files to Download
To download, right-click the file and select "Save link as".
Return to Events
---