Christa Buss Update March 2018
Christa Buss Update March 2018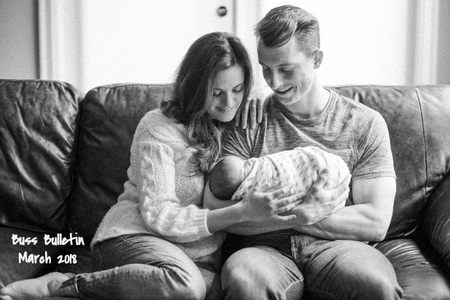 What a year it has been! I'm sure most of you know, but we had our son Carter Calvin Buss on March 4, 2017, at 3:20 am. He came into the world a big boy and continues to thrive. We're nearing his first birthday and this year has just flown by. He is such a joy and treasure to us and our families, full of fun and determination. We are so thankful for your support, prayers, and encouragement over the last year as we became parents, we could not have done it without you. Thank you.

I wanted to check in with you as supporters of my work with The Elevation Project and let you know that I have decided not to return to my position as Coordinator at The Elevation Project, in order to spend more time with my son, and also because it's hard to travel overseas with a little guy! Karis, the awesome person we hired to replace me, has agreed to continue with The EP and I am thrilled. She has been doing a fantastic job with the youth who traveled to Rwanda this past summer as well as managing the sponsorship program and all the other duties that go along with it.

As you know, working with Youth Unlimited requires fundraising, and I would like to thank all of you, my long-time supporters, for continuing to support the Coordinator position while I was on maternity leave. Now that I am choosing not to return, I'd like to again ask that you consider continuing your support of this great work being done with youth in both Canada and Rwanda.

I am still so invested in this work and I want to leave a legacy of support not only for Karis, but for the youth and their leaders who are still in their journey through The Elevation Experience Leadership Development Program right now; for the adult team who are traveling to Rwanda this spring; and for the over 250 sponsored students at both campuses of Kigali Christian School.
Will you continue your partnership with The Elevation Project?
It would mean so much to me, to know that I have been a bridge for you to the great work being done in Canada and Rwanda.
If you wish to continue, you have a couple options:

1. You can continue supporting The Elevation Project as an Elevater, whose support is used for program costs, staff salary and in areas of greatest need.

OR

2. You can change your support to $50 per month and Sponsor a Student at Kigali Christian School, who provide high quality education to students who would not otherwise be able to afford it.

Youth Unlimited does require specific instructions in this instance, so please let us know by phone or email (604-590-3759, finance@youthunlimited.com).

Thank you so much for your support, regardless of your choice going forward I have so appreciated your support these past few years, I cannot stress that enough. I hope you too, have been blessed by our partnership.

With much love and gratitude,




Christa Buss
Ministry Missions and Outreach