Project Samuel Fundraisers
Project Samuel Fundraisers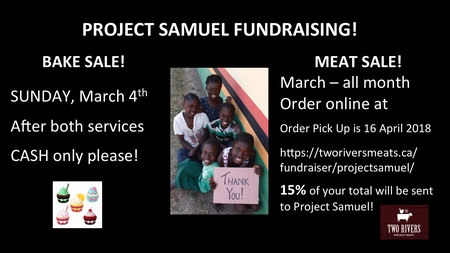 The Pearmain Family will be visiting Project Samuel in the summer and are raising funds for the orphans living there.
There are two upcoming fundraisers:
Bake Sale
The Pearmains will be hosting a bake sale next Sunday, March 4th, at the church after both the 9 & 11 am services. Please bring cash and plan to support them.
Organic Meat Fundraiser
They have also set up an organic meat fundraiser, partnering with Two Rivers Meats. You can order your meat online at https://tworiversmeats.ca/fundraiser/projectsamuel/
This fundraiser will run through the month of March and orders can be picked up on April 16th. 15% of the total will be donated to Project Samuel.
Ministry Missions and Outreach