Update from Beth Jamieson
Update from Beth Jamieson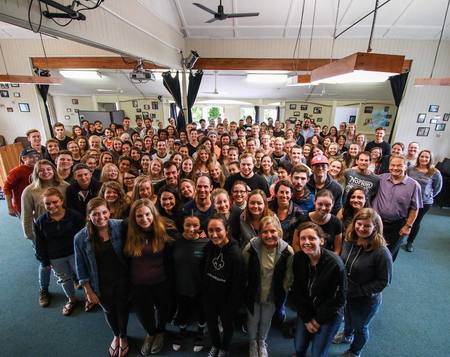 Happy New Year!!

You probably can't even find me in the photo, but that is the whole YWAM Brisbane base family!!

This holiday season has been a packed one, but so full of blessings from God -- the biggest being my dear mummy coming to visit me!! Thank you to all who have walked with my family in prayer to make that happen. It was honestly such a blessing for me to show her my life in Brisbane and a bit of what my ministry looks like.

Meanwhile, the DTS has been very busy preparing for outreach, which is coming up very soon in just over one week!! We have just completed a week of team building which my co-leader and I went into very unsure of how it would go. Our students are very different and interesting characters, but we were quickly bonded when in 5 minutes we had to come up with a team chant, which soon became an anthem for us. We continued throughout the week calling ourselves "the tribe" and by the end I was amazed by the joy that God had planted deep in the team. We had to complete a series of games and challenges and with each struggle we were surprised by our own attitudes and communication skills. We left the week encouraged and aware of how we will have to do further work to fully understand each other's very different personalities, but oh man do I thank God for this team!!

For a few weeks it also looked like the team might have had to rent a car, which would have cost us much more than we had budgeted for, but praise the Lord the base has purchased a new one! The base has a lot of vehicle needs and a few weeks ago one was crashed, so there would not have been a car to spare for the outreach weeks. Thankfully, our talented car-man Gary managed to find a replacement incredibly fast!

A week ago I was getting worried about finances because I didn't have enough yet to go on outreach. I even typed out a whole other email update about it, which I have now deleted because I am fully funded for the 7 weeks!! Thank you so much for partnering with me, whether financial or in prayer, I am so grateful. Praise God, He is amazing!

I pray you are well and had an amazing Christmas and Happy New Year!!

All my love,
Beth
Click Here to Partner with Me!
Ministry Missions and Outreach