Update from Kim and Brenden Vowell
Update from Kim and Brenden Vowell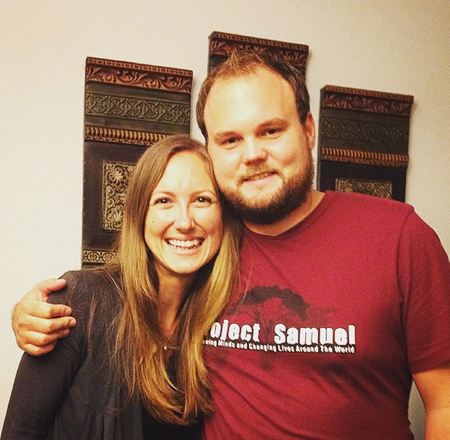 Dear NSAC Family,
I hope this little update finds you all well! I couldn't be more grateful that many of you have followed and supported the missions journey God has had me on for many years. For those of you just joining the journey, this update will be a little longer, as I'll try to share enough to catch you up to speed!
After our wonderful wedding celebrations in both Vancouver and then Texas, Brenden and I arrived in Zambia at Project Samuel around mid-May. Many of you know that Brenden has been serving and overseeing the children's home here for the last nine years. The first part of that time he was laying the foundations for the ministry; overseeing the building of the missions house and children's homes, becoming a nationally recognized caregiver for orphans, and pulling together a local staff team. From there, orphans in need began being matched with the Project. Today, 24 beautiful children and teens call Project Samuel home. The kids live simply, as families with a local "house mother," and a boys and girls room in each of the 3 houses. They attend local schools, local church and the Project works to strengthen and support the local community. The goal is to see Zambians grow holistically (body, mind and spirit) and be raised up as passionate Jesus followers who will impact their nation in great ways!
Having served in missions for just over ten years in Australia, Southeast Asia and the Pacific, I've spent the last two years living back in North Vancouver. When I met Brenden and got to know Project Samuel, I felt God calling me to not only join with him in life, but also in ministry. So...here we are. We've been back in Zambia for about 7 weeks now and I thought it high time to send along a little update.
As you can imagine, the last few months have been both absolutely wonderful, as well as a little overwhelming at times with all the many, many changes! In the last two weeks I have started to feel like some sense of norm is coming back, though I highly doubt life will ever hold a real true routine while we are here at the Project. Most days I kind of love that.
Brenden's major roles are oversight, maintenance, and development. He's been working since we returned to get a new staff flat started as well as managing harvest, and overseeing poultry. The Project has a sustainability branch that helps both subsidize some Project needs as well as to provide jobs to locals. He has also newly acquired a welder, and has spent a fair bit of time working on the vehicles, undertaking various other odd jobs, and his favourite – making a new grill to put over the fire!
I have been focusing my time on getting acquainted with the kids and house moms, learning how things work, and trying to turn Brenden's bachelor missions house into a home. I've also been doing some tutoring with the kids, leading Sunday School, helping with oversight of the house moms, and lots and lots of sewing and mending of the children's clothes.
The kids are all doing well. It's winter here and the weather is just beautiful for sports and outdoor fun. Their most recent joy, though, is that we found an old game of monopoly a few weeks ago. We've had a game going on our front porch literally every evening we've been home since! I love hearing them charge each other in Kwatcha (the local currency) and they think getting sent to jail is just the absolute funniest thing!
One last quick praise point from us is that we've found a local expat church to attend (part-time as we also go to the children's church to lead Sunday School and worship with them). The congregation is made up mostly of Zimbabwe farmers and it's only about 40 minutes from us in the closest community. We are starting to make friends and attending a Bible study with them as well. This was a huge prayer point for me before coming, as having the opportunity to worship and converse with others in fluent English is refreshing and means a lot to me. Brenden has been truly enjoying the fellowship and friendship as well.
Thank you again so much for your prayers and support!
Lots of love, Kim and Brenden
Mission Kim and Brenden Vowell